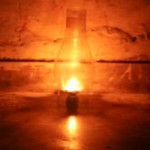 "Therefore, be ye lamps unto yourselves, be a refuge to yourselves. Hold fast to Truth as a lamp; hold fast to the truth as a refuge. Look not for a refuge in anyone beside yourselves. And those, who shall be a lamp unto themselves, shall betake themselves to no external refuge, but holding fast to the Truth as their lamp, and holding fast to the Truth as their refuge, they shall reach the topmost height." – Gautama Buddha
How will you find refuge in yourself today?
The Daily Compass offers words and images to inspire spiritual reflection and encourage the creation of a more loving, inclusive and just world. Produced by The Church of the Larger Fellowship, the Unitarian Universalist Congregation Without Walls.