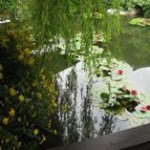 The lotus flower is important in Chinese mythology as the symbol of something pure and beautiful that grows up from the muck. It is a reminder that each of us can transcend our circumstances. But remember, the lotus never leaves the muck behind – the unattractive mess at the bottom of the pond is what nourishes the plant throughout its life.
What messy parts of your life continue to nourish you?
The Daily Compass offers words and images to inspire spiritual reflection and encourage the creation of a more loving, inclusive and just world. Produced by The Church of the Larger Fellowship, the Unitarian Universalist Congregation Without Walls.