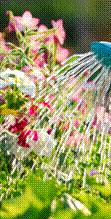 This time of year, many gardens are beginning to look a bit crispy around the edges. Surely the rain will fall soon, and spare us the effort of having to water! But sometimes you simply have to take responsibility for watering your own garden.
Sure, there will be moments of deep grace when the rain falls from the sky and you are suddenly, blessedly, refreshed. But more often, it is up to us to make a time and place for our souls to drink deep.
How will you nourish your roots today?
The Daily Compass offers words and images to inspire spiritual reflection and encourage the creation of a more loving, inclusive and just world. Produced by The Church of the Larger Fellowship, the Unitarian Universalist Congregation Without Walls.