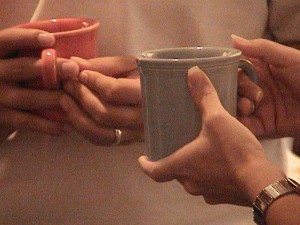 Joy is not the result of getting what you want; it is the way to get what you want. In the deepest sense, joy is what you want.
–Alan Cohen
A Prayer for Difficult Conversations
May our shared values be our compass,
Helping us to remember why we are on this spinning planet,
Helping us to navigate here in this dense thicket.
I know we are both struggling, so may we have compassion for one another.
May our shared memories be our sustenance,
Nurturing us along as we are weary and wary on this rocky road,
Providing strength to go on.
I know we are kindred, so may we overcome this obstacle to kinship.
May our shared commitments point to our destination,
Imagining a place big enough to hold us all,
Desiring to live where love casts out fear.
I know we both want to be there, so may we touch it now.
May every word I speak be filtered through my heart.
May every word I hear be filtered through my heart.
May my inner judge sit this one out.
May I breathe into lovingkindness, for myself and for you.
And may I accept that we will both do this imperfectly.
BY REV. MEG RILEY, SENIOR MINISTER, CHURCH OF THE LARGER FELLOWSHIP, TO READ MORE
The Daily Compass offers words and images to inspire spiritual reflection and encourage the creation of a more loving, inclusive and just world. Produced by The Church of the Larger Fellowship, the Unitarian Universalist Congregation Without Walls.